Bachelor of Design (B.Des.) - Curriculum

The Bachelor of Design program comprises seven fundamentals that form the basis of the curriculum. These fundamentals are divided into three Design Technicals such as Design Language, Design Visualisation and Design Thinking and four Design Influencers such as Design and People, Design and Technology, Design Science and Design Management and they are in equal distribution over four years to ensure holistic, futuristic and multidisciplinary design education.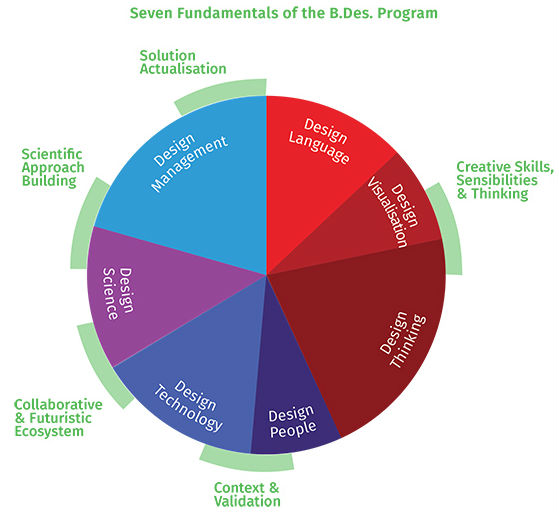 Years I & II are the foundation program with rigorous exposure to Design Fundamentals (Design Technicals) and an introductory view of the Multi-disciplinary Fundamentals (Design Influencers) through assisted teaching environments. The intent is to build the core strengths of a designer and impart the skills expected of a communication designer. All modules here are at the introductory level and progressively increase in depth and complexity over two years.
The years III & IV focus on deep dives and tinkering to apply the assimilated knowledge to create impactful solutions by exploring emergent technologies. The students are expected to converge and leap through creative studios, internship and the degree project.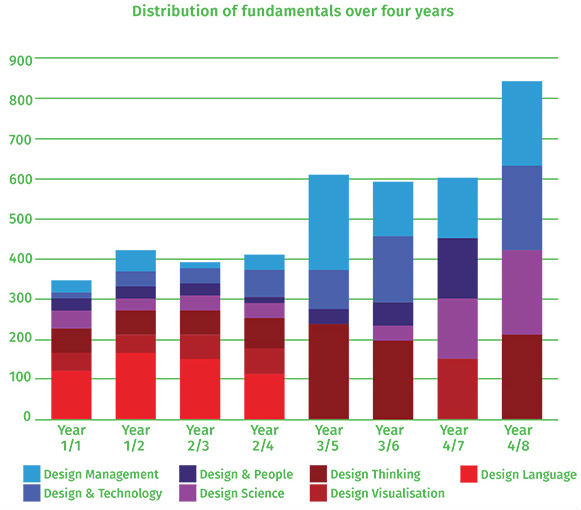 Copyright ©
Note: The B.Des. Program Design, module structure and module outlines is a copyright of SVKM's NMIMS (Deemed to be University),Mumbai and copying there off in any manner or making Photostat copies or feeding or storage in any retrieval system, computer etc. or transmission by any electronic means without the written permission of the owner SVKM's NMIMS (Deemed to be University),Mumbai will entail civil and criminal action without further notice.